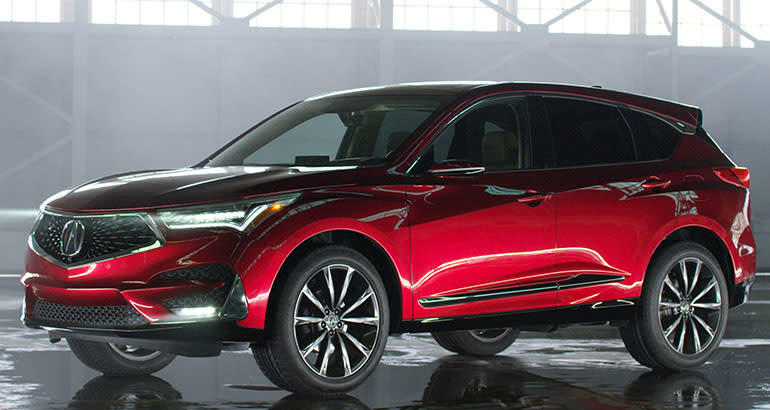 Some brands offer SUVs in every conceivable size and performance niche. By that standard, Acura is a boutique brand. After all, the new Acura lineup at Hall Acura Newport News numbers five vehicles — three sedans, and two SUVs. But if you've ever eaten at a restaurant with a limited menu, you know why that's a good thing; there's something to be said for having a smaller number of offerings and then concentrating on getting every last detail right. That can also mean a dilemma: which of those two SUVs, the 2019 Acura RDX or the 2019 Acura MDX, is right for you?
2019 Acura RDX
The
2019 Acura RDX
debuts the new Acura Precision design language on a new, more rigid platform. There's a new four-cylinder engine that offsets a small drop in horsepower with more torque and a flatter torque curve. As with the Acura RDX, all trims feature AcuraWatch™ safety features as standard equipment, and the
AcuraLink
® infotainment system features the new Acura True Touchpad interface with Apple CarPlay™ (an update for Android Auto™ is on the way).
2019 Acura MDX
Like the Acura RDX, the

2019 Acura MDX

offers a new A-Spec trim, standard FWD, and optional Acura SH-AWD. The engine choices carry over from last year, but the transmission is updated, there are new trim features on offer, and you're treated to

AcuraLink

® (but not the True Touchpad interface). Another difference? Seating for seven in three rows instead of the two-row/five-person seating of the Acura MDX. Otherwise, in terms of their features and amenities, these are very closely matched.
Josh Max of Forbes put both SUVs through their paces. He sums the two SUVs up just about perfectly: "There is no 'winner' in this case; the [Acura] RDX is totally redone and is worth a tire-kick and a drive for all the reasons listed above. The [Acura] MDX can haul a mob and looks great doing it."
Size considerations may make this an easy choice for you, but if you've read this far and you're still stumped, visit Hall Acura Newport News at 12501 Jefferson Ave. We're confident you really can't go wrong either way.